An Audio Sermon by Fr. Abraham Wassef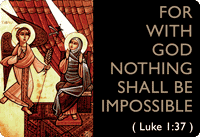 "For with god nothing shall be impossible" Luke 1:37
THE GOD OF THE IMPOSSIBLE
The angel is declaring a truth about our God that he is the God of the impossible:
He parts the red sea for Moses and Israel!
He rains Mana and gives water from a rock!
He adds 15 years to the life of Hezekiah the king!
He tears down the walls of Jericho!